print
WE OFFER THE UNIVERSAL NANOPIGMENT NANOINK WA



- saturated colors
- high resistance
- low cost of printing

read more: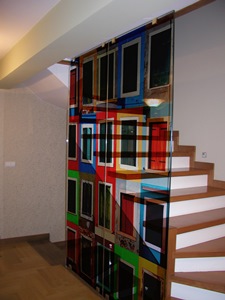 Our prints are created using the print device in the innovative technology, employing the latest ink type called nanopignent. This pigment due to its structure is able to penetrate the surface and print any material, providing the high quality and durability. This can not be achieved by other methods. With this technology it is possible to make every graphical idea on all flat surfaces like glass, wood, metal, plastics, stone, ceramics, fabric, leather, foil EVA and PVB.
The main advantages of nanotechnology:
- high print resolution up to 1440 dpi
- printed surfaces can be touched- erase-resistant
- after printing on a transparent material (eg glass) the printout is visible on both sides
- high grip, perfect integration of color with the material, print is untouchable
- high resistance to mechanical damage, moisture, UV rays
- compatible with foils EVA and PVB
- print colors: CMYK + white
- non-toxic inks based on water
Printing parameters: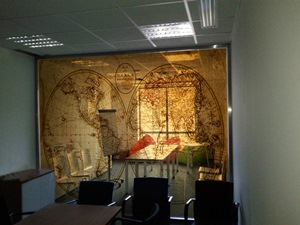 - resolution - up to 1440 dpi
- the maximum print area-1600 mm x 3400mm (on request can be longer)
- the thickness of the material- up to 90 mm
- the weight of the material - up to 200 kg

We invite you to bookmark GRAPHICS where in specific categories in an easy and fast way you can find an interesting proposal to beautify your interior. For every print, selected from our database or provided, we can adjust the size of facility and make a graphically treatment. We will also help in the creation of your dream graphic according to your concepts and ideas. We also mediate in the purchase of images on FOTOLIA , where you can find an unlimited number of photos and graphic themes.
We also invite you to bookmark PATTERNS where you can find themes that we can do by sandblasting on glass or by printing on glass and other materials. Each of these designs can be modified by filling it with any color, texture or graphic. These patterns are presented by us for example, the door is just one of the proposals for their use. They can easily decorate shower cabins, building glass, glass walls, railings, glass roofs, glass panels, countertops and furniture.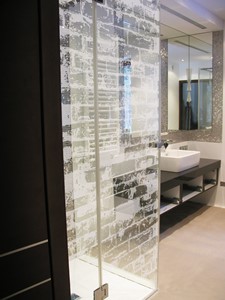 Materials on which we print:
- glass
- wood
-metal
- stone
-ceramics
- plastics
Printouts can be used by:
- glass panels for kitchen and bathroom
- glass door
- shower cabins
- glass railings
- building glass
- glass roofs
- floor and steps made ​​of glass and wood
- furniture fronts glass and wood
- countertops, made of glass and wood
- ceramic and stoneware (to create unique decors)
- metal interior elements (aluminum, brass, steel, stainless steel)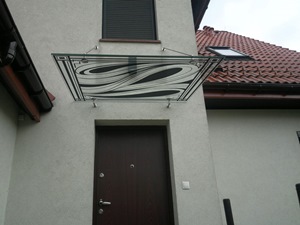 IMPORTANT !
Please note that color images displayed on your monitor will not be identical to the colors of prints, but it will be slightly different. This is due to the fact that all the printers work in the CMYK color space, and displays display color in RGB color space, which has a greater spectrum of colors. Not everything that monitor displays RGB, CMYK printer is able to print. Succulence of red, green and blue will be less. This is the case for all types of printers available on the market, regardless of in which the printing technologies work.
EXAMPLES OF THE USE OF OUR NANOPRINT
OUR MACHINE FOR PRINTING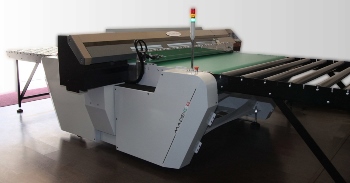 SEE ALSO:
GRAPHICS PATTERNS LAMINATING OFFER
Do góry